Pediatric Chiropractic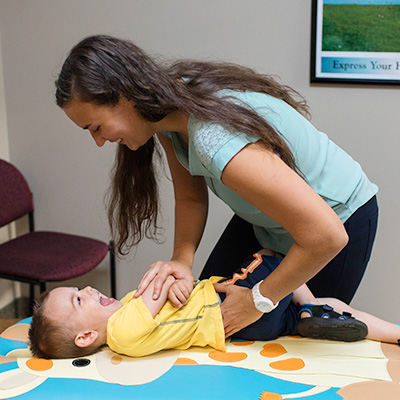 From the very start, we want to instill healthy habits in our children. Pediatric chiropractic is gentle care designed specifically for the unique needs of children, babies and newborns. As the nervous system controls all function in the body, it's important for children to have a great beginning in life by optimizing that function.
Why Start Early?
The birthing process itself can be the start of problems in the nervous system. The tugging and pulling on their vulnerable neck can cause a subluxation, not to mention the extra trauma of intervention such as forceps or suction. In fact, 80% of normal births include damage to the baby's upper neck. It's vital to have them checked immediately to avoid common childhood problems such as learning disabilities, allergies or ADHD.
Babies who are adjusted regularly also avoid distressing issues such as feeding problems, colic, ear infections and seizures. The best part of chiropractic for children is seeing the quick results. They respond incredibly fast to their adjustments, which thrills their parents.
Your child can play in our kids' area while we discuss their case. If your child is young, we'll talk about your pregnancy, birth and their early years. Depending on the child's age, we will do one or two scans with the INSiGHT™ Subluxation Station. These scans are quick and noninvasive. We may also do a posture evaluation.
When it comes to adjusting your child, we use extremely gentle techniques. A hold of our fingertips is all that's needed to adjust them. You can think of it as the same pressure you'd need to check the ripeness of an avocado.
Dr. Sibyl has always had a passion for children and coming from a family of eight kids; that's why focusing on kids seemed natural for her. Two of her sisters were born with special needs, and she has always had a place in her heart for children with such challenges. Dr. Sibyl is certified in the Webster Technique and is a supporting member of the International Chiropractic Pediatric Association (ICPA).
I feel so blessed to be a part of a career that gives people hope and true health without the use of medications or surgery.
Dr. Sibyl
The concept of chiropractic and kids is foreign to most and is sometimes met with resistance, especially when parents have been let down by other doctors in the past. We can tell you with confidence that children who are under chiropractic care as part of a wellness plan have optimally functioning nervous systems. This leads to maximized
Emotional health
Immune function
Physical vitality
Social interaction
More and more children today are being diagnosed with ADHD, and parents are being forced to rely on drugs to help their children fit into social and learning environments. Dr. Pavel Bence holds a certification in the treatment of ADHD and has had many successful outcomes with this epidemic issue.
One of our practice members was an 8-year old little boy, referred by his medical doctor. When the child first came to see us, he sat in a chair with his head down, unmoving. He was unable to concentrate or listen to instructions and completely unable to function in school.
After only a few adjustments, his mom noticed that he seemed to be calmer and started to do his homework. Before long, our ADHD protocols began to make a difference in this child's life, and he was able to completely re-integrate into his school and community environment.
Contact Us Today
We have two convenient locations to serve your family. Call our team now to book your child's first appointment for pediatric chiropractic Macomb!
CONTACT US »

Pediatric Chiropractor Macomb, MI | (586) 978-9900